Typeface Highlight: True North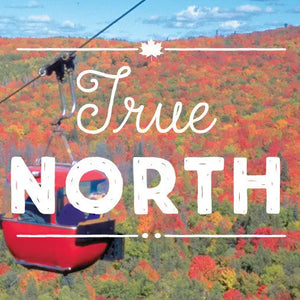 Much like the whole of Brooklyn, I am a real sucker for the hipster lumberjack revival.  I attribute this to an outdoorsy childhood in the great state of Minnesota served with a healthy dose of Paul Bunyan folklore.  
Needless to say, it was love at first sight when I stumbled across the typeface, True North.  It simultaneously reminds me of our winter trips to our cabin in Lutsen (way northern Minnesota / coldest place on Earth) and one of my favorite restaurants, Freemans (Lower East Side, NYC). It's no surprise this amazing set of letters was designed by two northerners, Cindy Kinash (a Canuck), of Cultivated Mind, and Charles Gibbons (Wisconsin by way of Mass and MN). 
I love the playfulness and the contrast of the scrips and san serif faces, and the robust offering of extras gives you so many directions to run! This typeface is the basis for two of our styles, Patriot and North Country.  
So, what do you think of this typeface?  Love / hate this style? Let us know in the comments below!