Embracing a New Journey: Growing Our Blended Family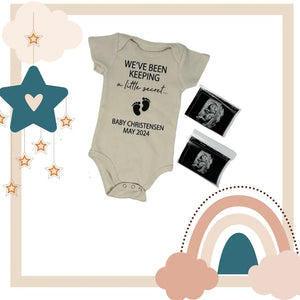 With immense joy and a touch of trepidation, we're excited to share some incredible news – our family is growing! We're expecting our fourth child in May 2024, and the anticipation of welcoming a new bundle of joy into our blended family has filled our hearts with extra excitement and a few butterflies.
As a blended family, this pregnancy holds a unique significance for us. It marks my second pregnancy but our first as a united family. The prospect of parenting together, with a 17-year-old son and two girls ages 8 and 6 years old, is both thrilling and, to be honest, a bit challenging.
At 38 years old, I find myself quite literally restarting parenthood after a significant gap. It's the first year in over a decade that I haven't had to drive someone to school. The reality of starting anew hit me like a ton of bricks, and I must admit, I had my moments of "freaking out."
The fear of sharing our exciting news with our children, friends, and family was also a significant concern. This pregnancy wasn't an accident, yet the weight of this life-altering decision was undeniable. I feared that our children might be upset or that this would add an additional burden onto our already busy life.
However, the beautiful part of sharing this journey with our blended family has been the surprising ease with which we've been met. 
In fact, these last few years, as my son has grown more independent, have sometimes felt somewhat lonely. The prospect of a new little one, a child to make us all one united family, fills us with excitement. I believe that I'll be a very different parent in my 30s compared to my 20s, armed with more life experience and a calmness in my life of being settled. 
Of course, the physical aspect of pregnancy has not been without its concerns. I wonder how my body will change and adapt this time around. However, this time, I feel more empowered and knowledgeable about health and wellness. I'm committed to working out throughout my pregnancy and making wise choices when it comes to nutrition. Still, the fear of each gained pound remains, and I often find myself staring at my changing body.
But in the midst of these worries, there is an overwhelming sense of gratitude and excitement. We're embarking on a new chapter, navigating the joys and challenges of parenthood as a blended family. As we move forward, we're eager to share this journey with all of you. I would also love to hear your stories. 
Thank you for being a part of our lives and for celebrating this incredible moment with us. We're excited to see how our blended family grows and evolves, and we can't wait to introduce our newest addition to the world in May 2024. 🌟👶❤️