The Ultimate Mother's Day Gift Bag (Starts with the perfect tote!)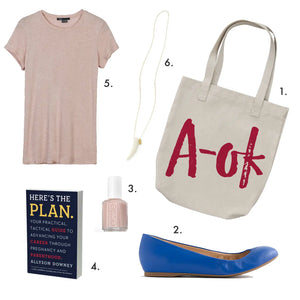 With Mother's Day approaching I started thinking about the perfect gift for Mother's Day. A gift that designed to help the mom(s) in your lift feel pampered, yet much more useful than bath salts that may or may never get used. (Remember the old advertising campaign for Calgon Bath Salts-"Calgon take me away?" who has time for baths?)  In this crazy day and age baths are now apart of my bucket list, sad, but true.
I decided to make a list of things of my favorite things, things that would make any mom (new or not-so-new) the perfect mother's day gift! I am a jean and t-shirt girl outside the office (and now working from home, inside the office too), and when I was a new mom and working retail hours at Marshall Field's Chicago Flagship Store, I was keeping long, odd work  hours  (5am-3pm or 9pm-6am shifts). It was a lot of evenings, weekends and overnights, which may sound awful, but I loved it. I always tried to keep dressing simple, classic with an unexpected item to give it a bit of style.
Here are a few of my favorite things that, together, are the makings for a pretty A-OK Mother's Day. 
Start with our A-OK tote (or any of our totes for that matter!) for a fun and functional carrier.
These are the perfect everyday shoe, comfortable, with a slight hidden wedge (so I don't feel dumpy in flats) and they come in amazing colors.  I love the color options, like cobalt blue, to really add a pop to any outfit.  
Let's be honest, everything seems in order when your nails look nice. Nothing fancy or loud for everyday, I like one coat of Ballet Slippers to make me feel put together.
4. Allyson Downey's "Here's The Plan"
I love to read, but after having kids, let's just say my library card expired. "Here's The Plan" is a new book coming out by Allyson Downey (founder of Wee Spring, a go to guide for everything you need for baby) "Here's The Plan" is a road map for working moms, to help them navigate their careers while being a great mom. (I can use all the help I can get!)
I am a jeans and tee-shirt kind of girl-this is the perfect tee. Classic, perfect fit and super soft- my wardrobe go to.
If you haven't checked out these amazing designs, you need to now. In the time of the statement necklaces Tess and Tricia's jewelry offers just the right amount of understated, yet look at me style that pulls any outfit together.