The Real Americana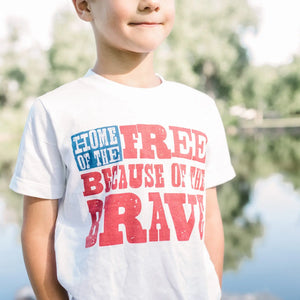 Bring on the parades, picnics, fireworks and three legged races, the 4th of July is almost here! Commemorate the holiday with our Americana Collection. Our new designs (totes, onesies and t-shirts) celebrate the season so your little ones enjoy the day in style!
This summer we added a couple of new styles to our ever growing Americana Collection. From quotes (for the future class president) to great American comfort food (apple pie anyone?)—this collection will have you whistling the Star Spangled Banner all the way to the parade.
From biscuits and gravy, cheeseburgers to peanut butter and jelly; our American Eats design is sure to be a hit and may even make your stomach growl.
Want to get personal? Head over to the Patriot Collection page and check out all the ways you can customize a t-shirt, onesie or tote for your little one in time for the parade!
Have a new patriot in the family? Our 3 piece gift set makes a great gift for the newest little Washington, Jefferson or Lincoln! Enjoy family, friends and freedom—Happy 4th of July!