The Boyle Family Thanksgiving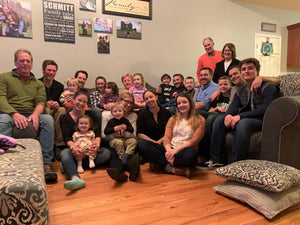 As a kid, I always thought of my family as super traditional based on how we celebrated Thanksgiving.
We would all gather in our holiday best and meet at my Aunt Ellen's house. Warm family hugs always greeted us (even in that phase when we were not so into hugs). We always shared a dazzling spread of appetizers (even when we knew it was way too much).
There was that warmth from an oven that had been on for a long time. The smell of cooking filled every corner.  The soundtrack was a quiet, or not so quiet, din of football on TV, talking, laughter, babies…  
There was always a new baby, at least until we kids all grew up and started bringing boyfriends and girlfriends. 
Then the babies started happening again.
I even remember the cold air from the open door as someone else arrived, a pinch of sensation welcoming someone else to the hearth.
It all seemed perfect and stable and never changing. 
Then, about 11 years ago, new meaning arrived.  Rather than welcoming new faces, it was the missing ones who marked the day. 
I tear up writing this, as I think of the first Thanksgiving without my dad. 
And then we lost my Uncle Larry and Aunt Rose.  
There were a few Thanksgivings where it didn't feel festive at all… it felt empty, not so stable, not so safe.  
I realized, though, that the tradition marches on, which is maybe the point of tradition in the first place.   
Those of us who have been around the table for many years are older, wiser, and see the passage of time.  Many people at the table are new or different. The rest of us see the shadows of old faces in the younger ones. 
The appetizers, the football, the chatter, the laughter, and the occasional burst of cold air met by the interested gaze of a toddler as someone arrives are all still there.   
As an adult, I know we are traditional.  Our memories of the holiday reach far into the past. The memories of what we have lost strengthen the thankfulness for what we have.   
Yes, I miss my father to my core, and that will never change.  Yes, I miss my uncle Larry and his voice while he told stories. Yes, I miss my Aunt Rose's hugs sooooo much.
But that is just a base note to the thankfulness that I feel for having them in my life and the thankfulness I feel for those who will survive me. 
Loss doesn't mean the end of Thanksgiving, just as birth doesn't mean the beginning.  It is all jumbled into a steady tradition that marks the passage of the time we have together. 
So I would like to take this moment to be thankful for those who brought us here and gave us this tradition as well as those Little Ones who will carry it on. 
Have a wonderful Thanksgiving in memory of those before us, in celebration of those with us, and with welcoming arms to those who will join us.