Squarespace vs. Shopify: Why We're Making the Switch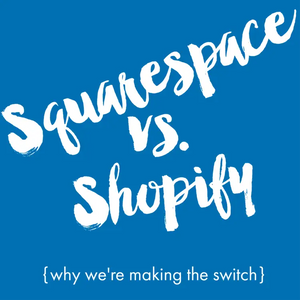 I will start by saying I love our site.  And not just because it took me 100+ hours to build.  I really do, genuinely love it.   I love it's simplicity, the cleanliness of the design, the ease of the interface… It's a really good shop.  
But it's time to move on. 
When we built our site initially, we were drowning in work.  Finalizing our printer choice, finding office space, learning how to use said printer, buying all our inventory.  We needed something beautiful, functional, and fast.  So, we went with Squarespace and our site was up and working. 
Now that we're growing (!) the business is getting more complicated and needs a site that can grow with us.  After many hours of research, frustration, and eventually acceptance, we decided that our current site just can't  take us where we want to go.  We need a more flexible platform that caters more thoroughly to ecommerce.  So we are taking our little shop to Shopify! 
Here are some of the benefits Shopify offers that will the make our site even better for out customers: 
Gift cards
Customer Accounts: So you can track your purchases, save your shipping information
Whole order additions: So you can add rush production, or a card to an entire order
Change color of image as the user selects
Newsletter popups
Draft pages
More sophisticated forms (We did this using custom application upgrade)
Site Backup
Undo Button
Timed site updates
More Sophisticated Discount Codes
More Robust Reporting
Developer tools are significantly easier to use and more stable
Still, with all this Shopify is not perfect. There are still a few kinks we are working out: 
Limited Blog Functionality: To be fair, you can customize Shopify's blogs to be whatever you want, but out of the box, it's pretty bare bones) 
Forms: We had to upgrade our Shopify account and use an external app to get forms on our site.  They are much more advance, but didn't come without a whole lot of fine tuning
Less intuitive interface.: I work in digital pretty much all day, everyday, and have created on a number of different platforms.  Still, learning a new one is no joke and takes time.  Shopify is a very smart interface, but it took me a while to get the hang of it. 
I knew while building our current site that it wouldn't last forever.  I am definitely a hands on learner, so the best way for me to understand something is to use it. As we were building, I felt like I kept finding dead ends or brick walls, and was kicking myself for starting on Squarespace at all. But, I realized starting on Squarespace really helped us in the long run.  Working in a more straightforward, somewhat limited environment helped us focus on what mattered most, our product.  Now we have an opportunity to give the whole site a makeover and improve on what we've learned in our first 4 1/2  months.  There's a silver lining for you! 
Do you have a website? A digital home for your personal site, blog, small business, or project...? Please reach out! I love talking web, I know it puts most people to sleep- I'm sure we can learn from each other. 
We are aiming to launch September 1! Hi Little One 2.0 is going to be as easy to use with so many more options! We can't wait to show you what we've been working on!