Spring Break Style, Pint Size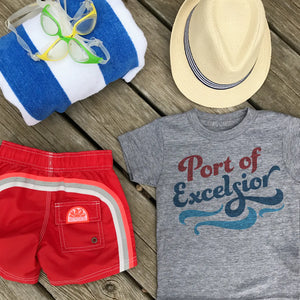 This crazy mixed up weather (snowing one minute, 65 degrees the next) has got us jonesing for spring break in a big way! We put together (with the help of Big Island Swim and Surf) some tips sure to win your little ones props for their sweet spring break stye.
You may have guessed by now. but we are big into t-shirts, both personalized and non-personalized. T-shirts are the staple of a spring break suitcase. 
Keep the sun out of your face and keep your skin safe with this darling Snapper Rock Fedora, stylish and smart! Don't forget to pack a waterproof floating phone case ( we like Tech Candy's Dry Spell) for the pool and a pair of Natives to keep your toes off the hot beach. 
Have fun, stay safe and avoid any contests involving white t-shirts and buckets of water. Just sayin' ;)