Hot 'N Fresh out the Kitchen: HLO x Miss Jones Baking Co.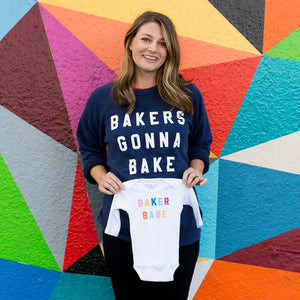 We're so excited about our collaboration with Miss Jones Baking Co.!
Miss Jones is a baking company that makes frosting, mixes and new cups without any artificial flavors or hydrogenated oils. And they are so good. So, so good! The founder, Sarah, is expecting her first babe this summer and wanted to team up to make a fun announcement. We turned it into a really tasty collection!
Yes, they have a line of really fun adult sweatshirts and tees—Martha and Snoop are big fans.
So, we took their lead and brought it to the littles!
We even included a new mom/pregnancy baker box. I love this gift set so much it almost makes me want to be pregnant again. Almost.
It's such a simple, fun and unique gift to get a new mom or mom to be. Check out the entire collection and get your sugar fix!