Girl Boss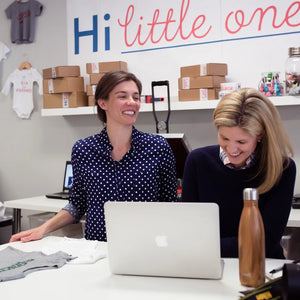 Through starting Hi Little One I knew I would learn a ton and that I would be stepping out of my comfort zone on a lot of things. (i.e TV interviews, Cold Calling, Raising $ and the scariest part—Excel!) I didn't realize how many amazing people (mainly women) that I would get to know and learn from.The community of talented woman all working either in their home or out is incredible to me.
Take Tina from Rugged Wrist, a self taught designer who started making nautical themed bracelets (seriously cool) and now has a successful company that has expanded to making dog collars and leashes, in addition to other products worldwide. Tina spent many hours sitting listening to me talk about starting Hi Little One and asking a million questions about everything under the sun in regards to starting our own business.
Or Jen from Paisley & Sparrow. We met via Instagram and met when we realized we were both from Minneapolis. This girl is amazing. She is a wife, mother and she runs her own business. The thing I admire most about Jen is the message behind her company. She wants to help other women, women she encountered while doing service in Africa, talented women who make the most lovely handmade jewelry and accessories. So, Jen started Paisley & Sparrow a beautiful site that sells really gorgeous items that are made by the women she met. She is the link that is making a huge impact in these women's lives.
Not to be forgotten is Amy from Amy's Cupcake Shoppe. Thanks to her life long love of baking for her family, friends and a very successful booth at the Minnetonka Farmers Market Amy was inspired to open her own business. After a lot of hard work and a  and a successful Kickstarter campaign her darling bakery is one of the busiest (and tastiest) bakeries in town! 
Last but not least, our good friend Sarah, owner and founder of Chasing Windmills Kids with her husband JP.  Nell very luckily sat next to Sarah on the flight back from a conference we all attended, but hadn't crossed paths at. Now they meet for lunch and to trade advice and battle tales. Sarah pursued Chasing Windmills Kids after a fruitful, but less-than-fulfilling job as an actuary. We're so happy she did! Their line of merino kids cloths is incredibly cute, soft, and really perfect for any temp.