Fall Style — My Favorite Pieces for Little Ones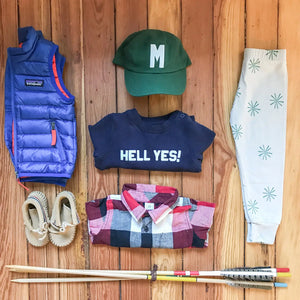 I have a love/hate relationship with Fall. To be perfectly honest, I despise being cold. (Like really, really hate it!) Despite the fact that fall leads into winter, Fall Fashion is the best of any season. What's not to love? Boots, chunky sweaters, scarves, hats— yes, please! The only thing better than dressing for fall is dressing a cute, chubby little one!  I mean seriously, flannel shirts are great, but put them on a toddler and cuteness overload! Don't even get me started on hats for little ones....... Here are my top Fall Styles for little ones.
1. Patagonia Vest - any color will do, but I am loving this bright blue with the orange detail. 
2. Chasing Windmills Long Johns- An absolute must for any little one dressing for a cold day, bonus these are merino wool and come in the cutest patterns. 
3. Gap Flannel Bodysuit- Channeling your little one's inner lumberjack. 
4. Minnetonka Moccasins- You can't get any cuter than these little boots
5.  Hi Little One  Personalized Baseball Cap- An absolute must for tailgating and any fall festival!
6. Hi Little One  Hell Yes Sweatshirt- Right? No explanation needed this one is a no-brainer for cool fall days and nights (also looks ridiculously cute worn over the flannel).