Are We Forgetting Something?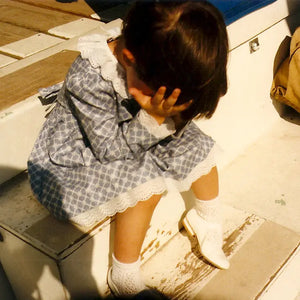 In three weeks, a friend and I are going on a River Cruise from Budapest to Amsterdam.  I am excited and starting to get my packing, at least mentally, done.  It is amazing how easy it is to pack for oneself.  Actually, the traveling is MUCH easier with two people then nine kids, I always considered Jim to be the ninth child, and he was just fine with that.  This does not mean that I didn't love traveling with my family, I did, still do.  It is just that one of my family was always left behind.
Nell, #5, the co-founder of Hi Little One, always was left.  When she was two months old, we were going to Lutsen, a five hour drive to Northern Minnesota.  It had been four years since we had a baby, and although it is like riding a bike, there was more to think about.  We were about twenty miles from home when Maggie #2, said "where is the baby?".  I did not think the joke was funny, but upon checking the car bed, there was in fact no baby in the Mini Winnebago.  We all were bumped that we had to turn around, but we did and found Nell asleep on our bed wrapped in her blankets.  
We would leave Nell in gas stations, rest stops always with the same question "where is Nell?" and always with the same result, retracing our miles till she was in hand.  She is the slowest moving of the Ryan Crew, and always waits to the last minute to act.  
The last time we left Nell was on Christmas Eve, she was six, and the family now numbered ten total.  We were at Lutsen and our tradition was to go to Mass in Grand Maris, have dinner at the Lutsen Lodge, come home read "The Gift of the Magi"and "A Cup of Christmas Tea"(in our pjs)and go to bed to wait for Santa.  We had dinner, piled in the Van, and made our way to the Townhouse.  We had just installed a phone, the week before, so when it rang it was a surprise to all of us.  Kate #3 answered, listened and then said "who is this?".  Nell, crying, replied, "this is Nell and you left me again!....... On Christmas!  We had a discussion about who had to go and get her, Jim won/lost.  
So when I depart on my river adventure, while I will miss my family, I know I will not be forgetting anyone and at my age that is very comforting.