Wrap it Up! Father's Day is in the Bag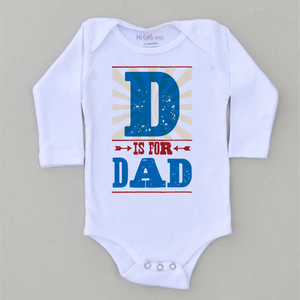 Father's Day is right around the corner!  Don't worry—we have you covered with last minute (but amazingly personal) ideas to help your little one give some props to their pops. 
Nothing says "I love you Dad", like a shirt that actually says "I love you Dad" ...And since we're in the camp of doing something a little less direct and a lot more fun, check out these Father's Day ideas.
You don't even need to be a sports fan to appreciate this vintage throwback style—pretty much anything with a number on the back is on point. For a Father's Day twist - personalize with "SideKick" on the front and "#1 Dad" on the back.
Squad Goals? How about your own team shirts. Pick your old man's favorite ride (road bike, hot rod or motorcycle) and make a custom team shirt for his pit crew. 
Personalize this style by using the Dad's nickname. For example, if your baby-daddy's nickname is "Buckshot" (don't ask-that's another blog in itself), try your last name on the front, and "Lil' Buck" on the back. Bonus points for finding out his high school sports number for the back too! 
Like to keep it classic and straight forward? "D is for Dad!, "P is for Papa" or "M is for My Old Man" 
>> Order by Tuesday June 13th for delivery before Father's Day.