Throwback Collegiate Style // The Making of the HLO Sweatshirt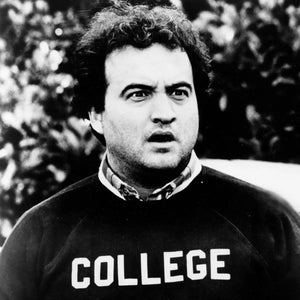 When I think of fall, I think of little ones playing in a leaf pile, or at the pumpkin patch, or picking apples at the orchard. And of course, I think about the first day of school. Whether it's kindergarten, junior year of high school or heading to the frat house for your (second) senior year of college...
(Try and tell me John Belushi chugging Jack doesn't make you think of kids clothes!) I don't look at this as stealing an idea, really—more like paying homage to a style bringing it to the masses. Masses of children, actually. We did it for the Children. Maggie and I have been working to get these sweatshirts and hats in the shop for almost a year and a half. We searched high and low to find the perfect sweatshirt (we found it at
Primary
), then the perfect hat (have you noticed it's impossible to find non-trucker-style baseball hats for infants?!), and of course, the perfect the lettering. And how to tag them? So many small challenges. 
But after some solid searching, and trial and error, perfecting and perfecting again—they're here! They Vintage Wool Sweatshirt and Hat Collection is finally here, and I am so happy with how it turned out. 
We wanted these sweatshirts to be the thing you grabbed for on a crisp Saturday morning for your walk.  Something super soft, cozy, and sporty. And a little playful. We decided to add a small little tag on the bottom of the shirt, which of course, Bullets helped us sew.
It's such a simple design and production process, now that we've sorted it all out. But I'd never sewn even a button before we did this! This is a whole new frontier.  
What do you think of our new gear? It's a whole new world for us, and we're so excited to see if you love them as much as we do!