The Perfect Summer T-Shirt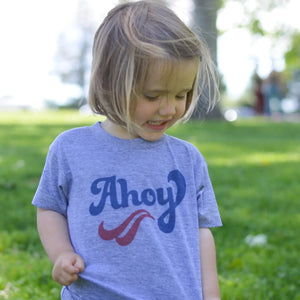 Summer time means all kinds of T: golf T, (long) Island iced Tea and t-shirts! Nothing says "summer vibes" like a relaxes summer t-shirt, and we set out to make some classics with our summer inspired collections. 
Our undeniable love of the classic t-shirt is why we created Hi Little One in the first place. Among our five sisters, there are likely over 100 t-shirts, at least 10 of which are the cream of the crop, perfect-fitting, irreplaceable, I-absolutely-need-to-have it-for-this-weekend-t-shirt. We may or may not frequently ship items in this last category across the country to borrow/lend since we've all moved away.
Needless to say, we took the task of making perfect vintage t-shirts seriously when we created our Vintage Summer collection for babies, toddlers and kids.  We took our favorite styles and customized, personalized, modernized them so your little ones can have the t-shirt of your dreams.  The shirts are perfect for any occasions- new baby gifts, baby shower gifts, birthday gifts, holiday gifts etc... Customization plus style! 
So sit back, enjoy your tea or tee-off; either way chances are you are going to be wearing your favorite tee!