That's My Bag Baby!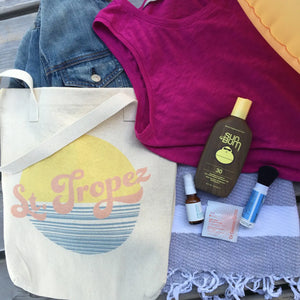 This summer my go to bag is our Sundown Personalized Beach tote. The vintage throwback design with St.Tropez  (my choice for the personalization) holds all of my beach essentials- towels, lotions and potions...Here are some of my favorites-
1.Sun Bum Sunscreen
I learned the hard way when I was younger that sun screen doesn't taste as good as it smells, so believe me when I say no matter how good this stuff smells resist the temptation. I love this sun screen- it comes in lotion that blends in perfectly, has a high SPF, smells like summer and is sold at Target! Done and done.
2. Josie Maran Argan Daily Moisturizer SPF 47 with Sunboost ATB - Goes on light, has natural ingredients and has a SPF of 47. 
3. Peter Thomas Roth Instant Mineral Powder SPF 30
I love this powder sunscreen- fixes my shiny skin and protects it from the sun! (I'm sort of obsessed with this stuff)
4. Dr. Dennis Gross Skincare Alpha Beta Glow Pads
I use ALOT of  sunscreen during the day, my face doesn't get much color from the actual sun. At night (once a week), I use these sun screen towels on my face and neck and wake up with a natural looking glow. Love the packaging too-great for travel.
5. Athleta Tank Top
This cute tank is the perfect length to double as a cover up and the fabric is so soft and light and it comes in a bunch of great colors. Perfect for a day at the beach or pool.
6. Jean Jacket
I love Rag and Bone's jean jacket because the fabric is so soft and light weight. Perfect to toss in my beach tote to cover up when the sun goes down. 
7. Turkish Beach Towel
You can find these great towels anywhere! They are soft, come in great colors and designs-wrap this towel around your waist and it doubles as a sarong!