Open House! This Thursday 12/10 4-8pm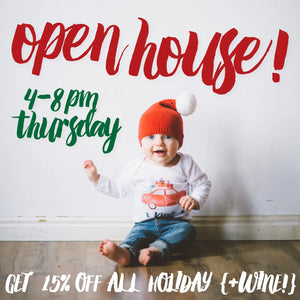 We are so excited about our new space and can't wait to share it with you!
So in true holiday spirit, we're hosting an open house this Thursday from 4-8pm at the Hi Little One production Studio.  We've teamed up with our friends are at Make My Notebook to put together a very festive, and completely custom holiday boutique.  
Like any good party, there will be music, wine, treats, and good company.  Stop by and watch your personalized gifts be made while you revel in some holiday cheer!  
Hi Little One Open House
Thursday, December 10th, 4-8pm
5364 W 25th Ave 
Edgewater, CO 80214

Hope to see you there!
{Loving this photo shared by blogger Dani Marie Krum! Check out the gorgeous series of her little man, King!}