Moving on Up!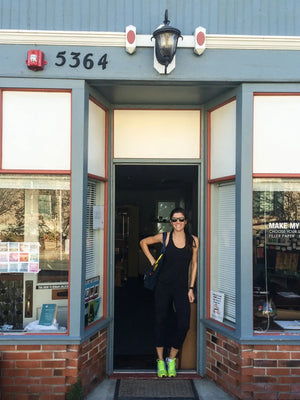 We have moved our production studio and couldn't be more excited about it.  The new space has is filled with sunlight, creative, friendly people and positive vibes. I am sure great things are going to happen here and can't wait to get started. 
Maggie and I met Sara and the Make My Notebook team at Altitude Summit this past summer. More specifically, we met in the hotel bar after a welcome party. We knew we'd be fast friends. As HLO has grown we've known our existing office space was not going to cut it for long. When we heard (via the ladies at The Coterie Denver) Sara had a little room to spare, we jumped at the opportunity. So much women helping women going on here - I really love it. 
This weekend, thanks to the muscle of many generous friends, we moved shop and are now open for business! 
Hi Little One Production Studio 
5364 W 25th Ave
Edgewater, CO 80214
Shop Hours
Tuesdays & Thursdays 1PM — 6PM 
I am going to stick to this schedule, but will most definitely be at the studio well beyond these hours each week. If you're in the neighborhood or want to schedule a pickup, please let me know! You can always reach me at: nell[at]hilittleone.com. You can stop in anytime during these hours to order and watch your goods being printed on the spot. 
It still needs some dressing up, but isn't she a beaut!