Memories of Thanks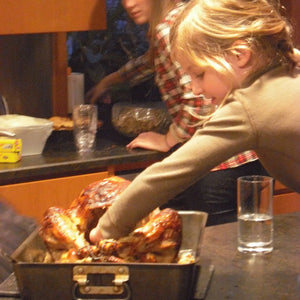 I discovered in writing this post that we don't have any great, or even average, photos from Thanksgiving. We thought this image of a small child (my granddaughter Trinity) essentially climbing into a turkey carcass was pretty representative of what this day is like in our house. 
This is a month for thanks, but I really think it should be an every day occurrence. 
For about 20 years we celebrated every Thanksgiving with another family. Yes! Can you believe that someone would actually want a family of 10 for dinner?  But they did and it was always wonderful, sometimes eventful, but always wonderful. It was the tradition to have the meal at our house, with me cooking, because the other family didn't cook. However,  when my due date with our 8th child  (Tess) was Thanksgiving Day (Tess was finally born sixteen days late on 12/9) they said they were cooking, we all held our breath. We arrived in Hudson, WI as the mom was putting out the turkey with hot pads. Someone had given her directions on how to cook the bird, and now the it was on fire.  It was saved and dinner went on without a hitch. 
We knowing brought chickenpox one year, their youngest had missed it, we rectified that.  Another year the same child ran into a door frame and my friend spent dinner at the hospital as we continued on with the meal. One year we had a big snow storm and our 12 passenger van got stuck on the road leading into their house. We called, spoke to their daughter to say we needed some help, she said "ok, I"ll tell my dad" and when we were about an hour late and the dad commented that we were never late, it was then that she remembered to tell him. 
We always said what we were thankful for at the end of dinner. Each one would try to think of something different from the person before him/her. It was the best part of the day, being with great friends, being truly thankful for being together.
The dad always videoed the day, and the year after Jim died he sent the whole 20 years to me on a CD. This might be the year I am able watch it. 
This tradition stopped about 7 years ago, families grow, change, move,  but every year about this time my phone rings "gobble, gobble, gobble (she sounds quite authentic)" all those wonderful memories are back.
What ever you do this year, with who ever you do it with Enjoy and be thankful.
Bullet Points
Do not mound the leftover stuffing around the bird. It will fill with the fat, expand, fall onto the grates in the oven and set the bird on fire.
If you are not a gravy maker, Lunds/Byerlys

 

has a pan dripping poultry gravy that is as good as homemade. (Actually better because you don't have to make it!)
Enjoy the time together, be thankful for all you have in your life, even though at the moment things may not look so great.