Mamaw's Angel Food Cake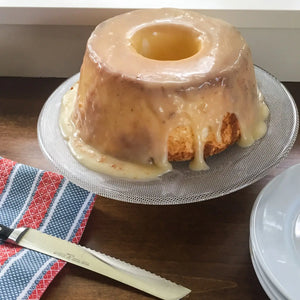 This is my mother-in-law's recipe and my family's favorite dessert. It is crazy sugary and a trip to the dentist might be in order after :) 
***side note- My husband is from Southern Kentucky and the cuisine is quite different than the food in the midwest. (I mean this in a positive way, the food is delicious and made with real butter, whole milk and fried) When my mother-in-law shared this recipe with me I had no clue what one of the ingredients was- "1 small can Pet milk". I re-read the recipe a few times thinking- "please God, let this not be milk from an actual pet." To my relief, I Googled pet milk and found out that it is an actual brand of evaporated milk, not from a family pet. 
Mamaw's Famous Angel Food Cake
Cake
1 box Betty Crocker Angel Food Cake Mix- prepare as directed on the box. Remove from pan and cool.
Icing
-2 cups sugar
-1 small can evaporated milk
-1 1/2 sticks butter 
Put icing ingredients in pan (without stirring)  and let sit for 45 minutes to 1 hour. Next turn on stove, stir and cook until boiling. Remove and set in ice cold water and stir until cool (if the icing is not cool it will melt the Angel Food Cake) Pour icing evenly over cake and let sit for 30 minutes and enjoy.