How we decorate our hats here at HLO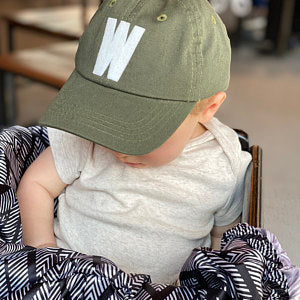 Have you ever wondered why we use felt wool letters? 
We use 100% wool felt letters because we love the look; it's so simple, stylish, and personalized for your little ones.
We have explored many options to make sure that we provide you with the best quality item. 
Many people ask us why we don't embroider the letters to the hat. 
The reason is because the infant hats can't be hooped. We have an embroidery machine in the shop and we have explored the option since November. We have tried multiple different machines and 100's of hoop styles, even hoops that are guaranteeing you can hoop anything. None of it gets us close to the brim of the hat. The embroidery falls closer to the crown of the head and just looks awkward. So we have ditched the idea and increased the quality of our heat pressed wool felt letter hats. 
This year we have added a new heat press along with small hand held letter placement irons to our equipment to ensure you receive the best quality personalized letter hats.
Check out our 5 step process!
1.) Moisture Content  - 

We preheat hat in 300 degrees for 15 seconds to reduce moisture content.

            
2.) Letter Placement - While the hat is hot we tack the letter with our skilled design eyes about 1/2" above the brim.
3.) Heat Press - The hats are placed in heat press again for 30 seconds at 300 degrees. 
4.) Quality Control - Quality control includes catching stray fuzzies and trimming threads, and making sure the letter has completely adhered to the hat. We make sure our hats are pristine before shipping off to their new homes! 
5.) Packing - We wrap up with tissue papers place in a box and ship them off to your little ones!