Halloween Happy Hour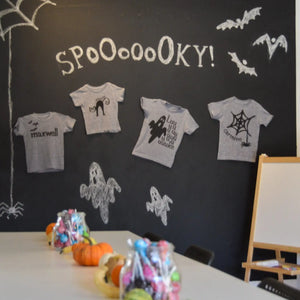 So...it's safe to say I've spent a fair amount of time spookifying up the studio, and aside from the awesome Open House earlier this month, it's just me and the postman who've been able to enjoy it! 
So we're doing a round two! Come by the studio for a kid-friendly happy hour next Friday the 28th from 1-4. We'll have 25% off the Spooky Collection and $15 design your own t-shirts! 
I really can't overstate how much fun the kids at the open house had coloring their own shirts. They loved watching and participating in the whole printing and curing process, and they get to walk out wearing their masterpiece! 
....but of course, if you're hitting the holidays a little early this year, we can make that happen for you too!