Goodbye and Hello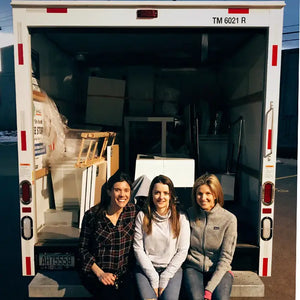 All packed up! We loaded up a U-Haul last Friday and sent Jessie & HLO on their way to New York!
So many things to be thankful for- the chance to run a company, to experience the support of everyone, the Kickstarter and the bittersweet sale of HLO. The last four years have been a crazy, amazing journey that I have learned so much from. We are so humbled by all of the kind notes from our friends family and customers (who have become friends) on the sale of HLO. Nell and I started this so long ago when we made our first t-shirts (kids birthday shirts, onesies for friends babies and shirts just for fun) From iron on to the direct to garment printer it has been over 10 years of t-shirts. (you think I'd be sick of t-shirts by now, but there is nothing better than a good white t-shirt)
Through all of this, the one thing that has meant the most to me was working with my amazing sister and getting to be apart of a family company. I'll spare you the details of our few arguments over things, tears that were shed and long nights not knowing if this thing was really going to happen. Nell has been so patient with her old sister (me) who was reluctant to do a Kickstarter campaign, put anything on social media and challenge myself in so many other ways. Looking forward to new challenges ahead, but looking back with appreciation and love for HLO. Last but not least, a huge thanks to our sweet mom (Bullets) for her amazing support, for sharing her talent of writing and for being our biggest cheerleader.
It is with much excitement that we introduce you to Jessie Boyle—the new amazing owner of Hi LIttle One! Jessie brings years of experience and so much new energy for Hi Little One. Jessie plans to continue the HLO products, style, and quality you have come to expect and deserve. With her fresh energy and passion for the company, the sky is the limit for Hi Little One!
Please continue to shop and support HLO in its next chapter.
Most importantly, in all of this, was you supporting our dream of running a small business. So, thank you so very much.