Get Saved! The Perfect Baptism Gift (That You Actually Want To Give)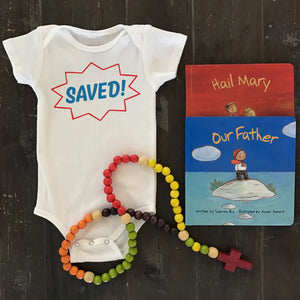 The last time I bought a Baptism Gift, I was at a total loss. I wanted to get something to celebrate the child and the church, but not too "churchy" as that's not really me. We created our Saved Onesie to fill that gap. It's cute, clever (if I do say so myself) and reflects back on what Baptism is in an off-beat sort of way. 
Want extra points? Add this darling oversized wooden rosary- My First Rosary. 
Complete the perfect baptism gift with two darling board books that explain the Lord's Prayer and Hail Mary (written by Sabrina Bus and illustrated by Xavier Deneux) to little ones in a simple, easy to understand message.