Finding Our Way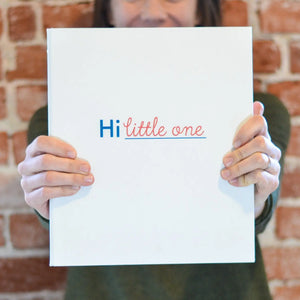 Hi Little One is growing beyond our online shop (all over the place, actually) and we couldn't be more excited about it!
In Retail Stores? Yes!
Our ready made product is in store and selling well. We are so happy to report Fleurish, Excelsior MN and The Storybook Gift Shop, Minneapolis MN are carrying Hi Little One's ready made product. (Readymade is our line of products that are ready to go as-is, with no need for personalization).  
In-Store Personalization? Yes!
As of this week Fleurish is launching our personalized items in store! We have been working hard behind the scened to develop a Hi Little One product binder, so customers can see samples of the product and order personalized items without ever going online. Customers can work with the talented staff at Fleurish to create the perfect gift for the little one's in their lives.
In School? Yes!
Our school spirit onesies have been a huge hit at St.Therese School and Church in Deephaven. The onesies are given to infants as a gift after their baptisms and the newest members of St. Therese Childcare also receive one as a welcome gift for the  "New Kid" in the St.Therese Community.
In Corporations? Yes!
Hi Little One is currently producing products for two companies, as gifts for the newest members of their corporate families. We work directly with each company to design a product that is true to the corporate culture of each unique business. 
All of these new wholesale ventures are really exciting to work on and expand Hi Little One in our community. We are busy working with contacts and stores in Denver, Colorado where our company is based as well. We feel so lucky to have the support of both communities and would really appreciate any feedback from you!
Please let us know if there is a store, school or business (big or small) that you think would be a good fit for Hi Little One.   We have more information and our contact on our brand spanking new Wholesale + Corporate Gifting Page.