Bye Bye American Apparel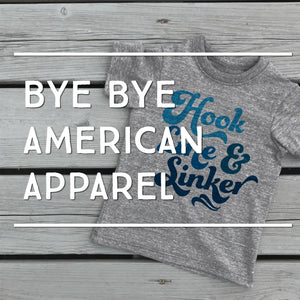 In early march—a few weeks before I was due to have Murray—I was checking inventory levels at the studio to make sure we were set for a few months maternity leave. I went to reorder a few of our basics (onesies, hats, bibs, super soft grey t-shirts) and was redirected from the American Apparel wholesale site to a we're-not-in-business-anymore-site. It was one page, explaining that AA had been acquired by Canadian apparel company, Gildan, and they were taking some time off to integrate their systems. No timeline. No guarantee of what products would be back.
 Cue panic attack.  
I suppose the writing has been on the wall for sometime now. An ousted CEO. Labor strikes. But if we're being honest, I never thought this day would actually come. Or at least had subconsciously decide to just close my eyes, proceed as if everything was ok and hope for the best. Shocking that didn't work out. 
Ironically, I had been listening to a podcast (season 4 of Startup by Gimlet Media) about AA founder Dov Charney's new venture. He's trying his chances at the t-shirt industry again, after being fairly forcibly removed from American Apparel. It's a great series that I would recommend if you're into small business podcasts. The Cliff's Notes version: he's a creative genius and reckless manager. It made me feel like I was clenching my teeth, watching the company skid along just above the level of becoming defunct. 
So when I learned the joy ride was finally, truly over, I was both shocked and not surprised. I was, however, wholly filled with anxiety becuase so many of our products our sourced from AA, and now we would need to find a new supplier with as high of quality, quick shipping, and low minimum order requirements. There were many more things than just the super soft tees that made AA an ideal supplier for our small business.
So Maggie and I divided up our products went on a mad sprint-search to find new suppliers for each. We ordered dozens of samples and tested printing, washing, wearing each of them—well we found some kids to test wear them. We are very happy to and extremely relieved to say we are back in business (after never being out of business ;) 
Check out two of our new shirts here: 
We're betting you couldn't have spotted the difference? It's hard to see corporate stability in a onesie. The new grey t-shirts are still the tri-blend fabric that we love from American Apparel but are a bit thicker and fit slightly slimmer than our previous version. It's a more substantial shirt with a better fit. We'll take it! It is also more accepting of our ink, so the colors are more vibrant and handle the wash with slightly less fade. 
We'll be phasing in the new products as we sell through the remaining inventory we have from American Apparel. If you're ordering multiples, we will be sure that all shirts are from the same vendor and will match exactly. If you have a preference on new vs. old shirts, just let us know! We're happy to accommodate.