Beautiful Chaos: Behind the Scenes at an HLO Photo Shoot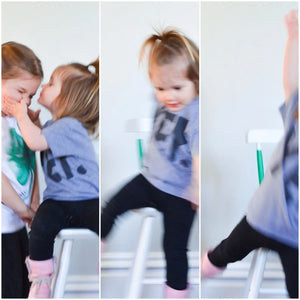 One of the most time consuming parts of running this business is developing our creative content. For the site. For social media. For our retail partners. We need a lot of it. And when your branding (clean, modern, bright, playful) doesn't exactly match the space you have to work with (my pre-renovation fixer-upper) there is a fair amount of prep work and camera trickery involved. 
The good thing about working with an unfinished space, is that completely upending your home changing things up is not a big deal. We already kind of live in a construction zone, so what may seem like a medium to large size mess project in a normal situation can go by fairly unnoticed. (It also helps to have a really, really laid back roommate. "Today I need help moving everything out of our bedroom and painting the wall...")
Last summer, I purchased 4, 4'x8' plywood boards from Home Depot that have been invaluable in creating a variety of backdrops. Last weekend I repainted one blue to use as a mock headboard and one grey to update our product shots (site update coming soon!). 
Since I don't have little ones of my own, my house is 100% void of children's accessories, toys and/or furniture. I'm honestly not sure there's a single child-friendly thing (besides Mick) in the house! So I fake it with Ikea. This last time, I was on a stool kick and bought a variety of different resting places for little butts. 
Once the kids are there, all bets are off for what will work, so a try to keep an arsenal of tootsie pops, dance music, jokes, props and scene changes at the ready. And even with all this prep, it can still be an extreme sport at times. I didn't know that one of the risks of kissing your sister was starfish-ing off a stool, so consider yourself warned!