Babies having Babies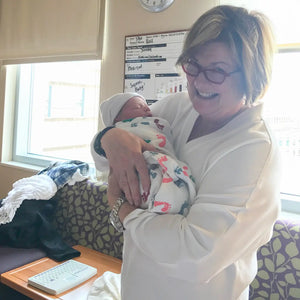 On March 16th I said "Hi Little One" to Murray James Lindquist, my 10th grandchild and Nell and Mick's first child. Nell was born on her due date and Murray followed in his mother's foot steps. Hopefully he will continue this timely pattern, unfortunately his mom did not.
I know that Murray's grandfather, in heaven, was hoping for a March 17th birthdate. For Jim that would have been the icing on the cake, another grandchild, (he wanted 50) and born on his favorite day of the year—with the exception of the opening of duck hunting. Murray arrived just before Notre Dame won their first game in the March Madness Tournament. We thought it was a sign of great things to come, but ND was out after game two. There is always next year.
When Nell called to say she was in labor on Wednesday night, I booked the earliest flight for Thursday morning. After the fastest Uber ride I have ever had, I made it with time to spare to Saint Joseph's hospital, Denver. I had time with Nell and Mick and then left to wait in the family lounge for the birth. For this once in a lifetime moment the mother/mother-in-law does not need to be in the room. If Jim had been there we would have had to forcibly remove him. In his mind, after 8 children, he had the skills to deliver this baby, so delusional.
Me with Nell a few days after she was born. (In 1983!)
It is wonderful, magical, and scary to watch your babies having babies. Wonderful and magical because you know what a miracle is taking place.That this birth will enrich their lives forever, profoundly changing their lives and themselves, adding more love than anyone thinks is possible to an already loving home. Scary because you know what the birth experience is like and even though there are things to make the mom much more comfortable, you don't want to see your child in pain. 4 out of 5 of my girls are mothers; some  handle medical things well and some...not so much (one of them faints at even the mention of blood). In any case, they were stars when it came to labor and delivery.
My daughters are wonderful mothers and their husbands are great fathers. Together they have made families that are warm, happy, and loving. They are practical, have rules, but not too many. They allow their kids to be creative and expressive; to be active participants in their families. Even though my children are very different and their parenting methods are very different, they are all raising great kids. Not perfect, but great. I have always had a struggle with perfection and I confess I am not objective about this group of people.
Parents never think about their babies growing up and having their own children, except for Jim. When Craig asked Jim for Maggie's hand in marriage, Jim came to me and so very excited said "We are going to be GRANDPARENTS", I said "you mean in-laws' and he said "yes that too". Maggie was not pregnant and we would not have grands for another 4 years.
Bullet points
Whether one is a biological, adopted, or honorary parent the birth experience is awe inspiring, relish it.
Being apart of this new life is a privilege and an honor, it requires that you are present to this little life and his/her parents
Be supportive, helpful, and listen well. What was the the norm when you were having your babies has probably changed. It will come back but not with this baby, so let the new parents take the lead. If they ask for advice, give it, but sparingly.
Above I said birth was a once in a lifetime moment. I have had 18 once in a life time moments with hopefully more to come. I am blessed.