Always Room For One More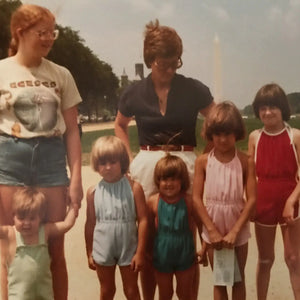 From the beginning of our relationship Jim and I loved to be around people. It was only natural that we had a large family. When we first married, we lived in an apartment 150ft from his former roommate Jerry, his cousin Tom and Tom's roommates. We lived right near the pool, so after work they would go for a swim, and stop in for what started as a beer and chat and ended in dinner. Summer ended, pool was drained, instead of 5 nights a week dinners for all, it went down to 3. We moved when our daughter Molly was born and (believe it or not) I missed the company, from time to time.
One summer relatives of ours had 2 boys come over from the Northern Ireland on a Children's program for a 6-week summer stay. It looked like so much fun we wanted to have someone join our family for a summer. So when our kids were 8, 6, 5, & 3, Kathy O'Connell came to spend 6 weeks with us. Kathy was terrified, she was 9 yrs. old and except for her sister, who was 7, she was the youngest to come over. On her 5th day with us she had her appendix removed and had a week stay in the hospital. This did not slow her down a bit and despite the huge differences from her life in Belfast and ours, it was a good summer. While we all enjoyed most of her stay, we decided that this was a once in a lifetime experience. Until we did it again when the kids were 18, 16, 15, 13, 9, 7, 5, & 3, when Lindsay arrived. No appendix issues this time and a good summer for all.
We had our niece and nephews several summers for a few weeks each time. Most enjoyed the craziness. One nephew that stayed a week was an only child and I think we traumatized him for life. Too much chaos, he never wanted to come back.
Eric arrived from Paris, early one May. Molly had spent a week with his family on a French Class trip and Jim's company was doing business with Eric's father, so Eric came to intern for a summer. Eric was from the city, very cosmopolitan, and an only child. He was overwhelmed, but as the summer went on he started to enjoy us. He learned what it meant to have little brothers and sisters, with all that entails, i.e. being thrown up on, spilled on and sneezed on. He would retreat to his room, or grab Tim to sneak out to the Alpine Slide when we were at Lutsen. The only thing he could not seem to do was eat with his fingers, even a double California cheese burger was eaten with a knife and fork. The last trip up north we took before Eric left, he put a tape recorder on the mantel and kept it going for three days. When he got back to Paris, his mom said she would hear him playing the tape of our family noise in his room. We missed him a lot. 
Our first foreign exchange student, Kristian from Norway, came to us unexpectedly. The family that he was paired up with had much younger children and chemistry was not ideal. Molly, a senior, came home and asked if Kristian could come and stay with us for part of the next semester. We thought he should meet us and see if he could handle it, so he came up to our Lutsen townhouse, 2 bedrooms & Loft, 12 people. He was great and fit right in, we didn't want him to leave and were sad to see him go. Two years later Martha, Kristian's sister came for the whole year and she did not want to leave at the end. I think there is something to be said for dividing up the year with two families. We were a bit calm for Martha, but we loved having her and it was a good experience for all.
We also had Magda, from Mexico and Juliette, from the Congo & Paris. These were less successful as both were not used to the constant chaos of a house with small kids (Magda was the youngest of 8 with 7 brothers and Juliette was a student teacher) they were not used to our team approach. I would suspect that they felt the same as we did.
We felt it was good for our family to be exposed to new people, who brought a totally different perspective into our lives. We all learned from each other, some experiences were better than others, but all were a growth experience.
Bullet Points
Make sure that you (parent) are ready to introduce a new temporary person into your family. It is going to be your job to keep things simpatico.
Try to have the student you are hosting in the general age of your children. These foreign high school students are usually older.
You can share your family's joy and love with many people, without even knowing you are doing it. It is in the respect with which you treat each other.
Having a person from another city, country, or ethnicity can bring so much growth to your family. The differences between our cultures we learned are not so great in the end.