Adventures in Grocery Shopping (Bullet's Style)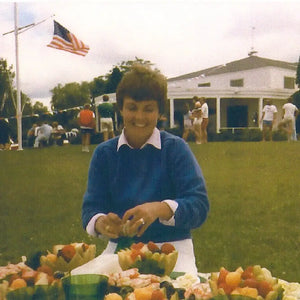 I have just finished the best time in the summer with my kids, the 4th of July weekend.  It is the time when we all come together in Minnesota.  All my kids, their husbands, children, significant others and friends come home. Cottagewood is the best place on earth to live, but especially on the 4th of July.   We have a 100+year old store where all the festivities start.  Pledge of Allegiance at 9:15, parade at 9:30, then games, dunk tank, fish pond and raffle.  All come and go at their own pace.
Our meals usually serve at least 25 people, more as each day goes on.  A lot is done ahead of time, and everyone pitches in with cleanup.  It is a marathon, no an ironman weekend and while exhausting, it is amazing and lots of fun.
Shopping for this weekend, is also amazing.  I used to do this kind of shopping on a weekly basis, when everyone was living here.  Early on in our marriage I loved to grocery shop, buy a few things (1/2 cart) bring them home, make almost gourmet meals, relax and enjoy them.  As years and kids came along, it was more bulk buying, (4 carts) less/no gourmet, no relaxing and enjoyment of a different kind.  
As a stay at home mom, the kids would share in all my household activities; I started shopping without kids, when too many items, not on my list, were in my cart at check out.  
Byerlys, a wonderful grocery, was open till midnight, so I would leave at about 10:30PM, shop almost alone in the store, peacefully put the groceries away and go to bed.  One evening I was so relaxed that I forgot my wallet.  I only noticed it, when the cashier said "that will be $$$," I was so flustered, I said "The company my husband works for built the store, you can trust me.   I will go home and get my wallet and come right back."   The cashier looked at me as if I had lost my mind, (close), and said "just bring in the check when you are around the store again or mail it in".  I wheeled the groceries out so very impressed that this store was so trusting.  When I got home I woke Jim up told him the story and all he got from it was "my husband built the store"; embarrassed he asked that I never use that line again and I didn't.
I tried the early online shopping (very new, not sophisticated, and not terribly efficient), but it was a time saver and items that didn't show up I could pick up.  When it was not a successful business venture I was back to buying and carrying by myself.  
As the kids left, it took me years to stop buying in volume.  Jim always used to say that it was ok to run out of food, to finish everything.  That was not in my wheelhouse, so I ALWAYS had enough food.  Sometimes I could have fed the entire neighborhood.  
Tess helped me this year, she is her father's daughter and coached me through the shopping trip.  She was perfect and we used everything, had very few leftovers and everyone had enough to eat. The refrigerator and cupboard are still pretty full.  I am lucky enough to have my three Phoenix grandchildren with me.  They come just before the 4th with their parents, we send their parents home and they stay until the 25th.  Now we bake a lot, I seem to be the only one that really eats it, they just like to bake.   We are featuring a tribute to Prince cake, today: purple and white swirl, purple frosting, and mostly purple sprinkles.
Bullet Points:
Shop when you are not hungry, at 10:30PM there are no samples

Being organized helps everyone have fun (I think I have used this previously)

Don't buy to many 4

th

of July paper plates and napkins, I used them the rest of 2015.

My mantra has always been, "Less is More", I now can relate that to groceries