A look inside the Spirit Animal Collection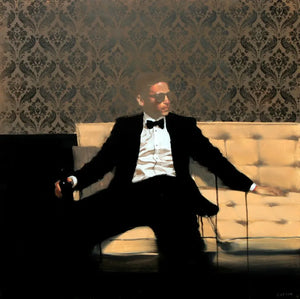 This week, we take a look into the Spirit Animal Collection and the creator, artist Michael Carson. Carson uses modern techniques in many of the paintings; paint drips and muted, almost faded, patches of canvas, punctuated by dark shadows or bright features. Mike is currently featured at The Bonner David Galleries in Scottsdale and The Georges Berges Gallery in Soho. His work has been featured in The New Yorker, Juxtapoz Magazine, and American Art Collector. He has been featured in numerous blogs including Kate Spade New York (Oct 2015) "top of our list for artists we follow", Artsy and The Jealous Curator , "I'm Jealous of Michael Carson". 
Mike graduated from the Minneapolis Institute of Art and Design and worked as a graphic artist before pursuing painting full-time. 
In full disclosure, Mike is our brother-in-law. (Don't hold it against him!) On top of being a multi-medium talented artist, Mike has an incredible (read: dry) sense of humor, a father of three, and a gifted musician (say what???? You might have seen him slapping the bass with his old band Soulvation in early the 2000s). 
The idea for Spirit Animals comes from the way within families kids are put into "roles" that describe them—often this is even before they can speak! You've heard it a thousand times... "Beckett's our little sleepyhead " or "Billy hasn't met a burger he doesn't like" or even "you never have to wonder where Sara is, you can hear her from a mile away."
The Spirit Animal collection pays homage to this long standing tradition. So, where does your little fit in? Ask yourself, which of the following suits your child best?