Bootlegs: Guaranteed to Change Lives!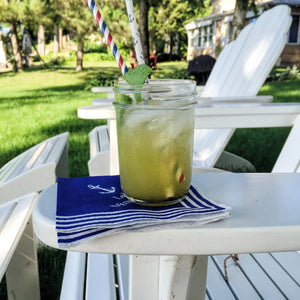 As far as summer drinks go the Bootleg is tops for us! This drink was our sweet dad's favorite warm weather go-to when friends stopped by. He always had the mix ready, usually several extra in the freezer too... The 4th is days away and bbq's, parades, sparklers, and guests will be arriving soon...better get blending! 
Bootlegs
1 Handful Mint Leaves

1/2 Fresh Squeezed Lime

3 12oz Cans Frozen Lemonade Concentrate

Mint leaves for garnish (if you're fancy)
Take the mint leaves and the lime juice and one can lemonade concentrate. Blend for 10 minutes (no cheating- a full 10 minutes is important) Add the last 2 cans of frozen lemonade and blend for another minute. This mixture can be refrigerated for up to two weeks or frozen.
In a tall glass add 1 shot Bootleg Mix and 1 shot Vodka (or Gin), add ice to the glass and top off with Club Soda and mix well. This is also easily made child-friendly by simply omitting the booze. 
And who knows, this drink might just get you dancing ;)